W.Va. Higher Education Policy Commission evolving due to potential state funding changes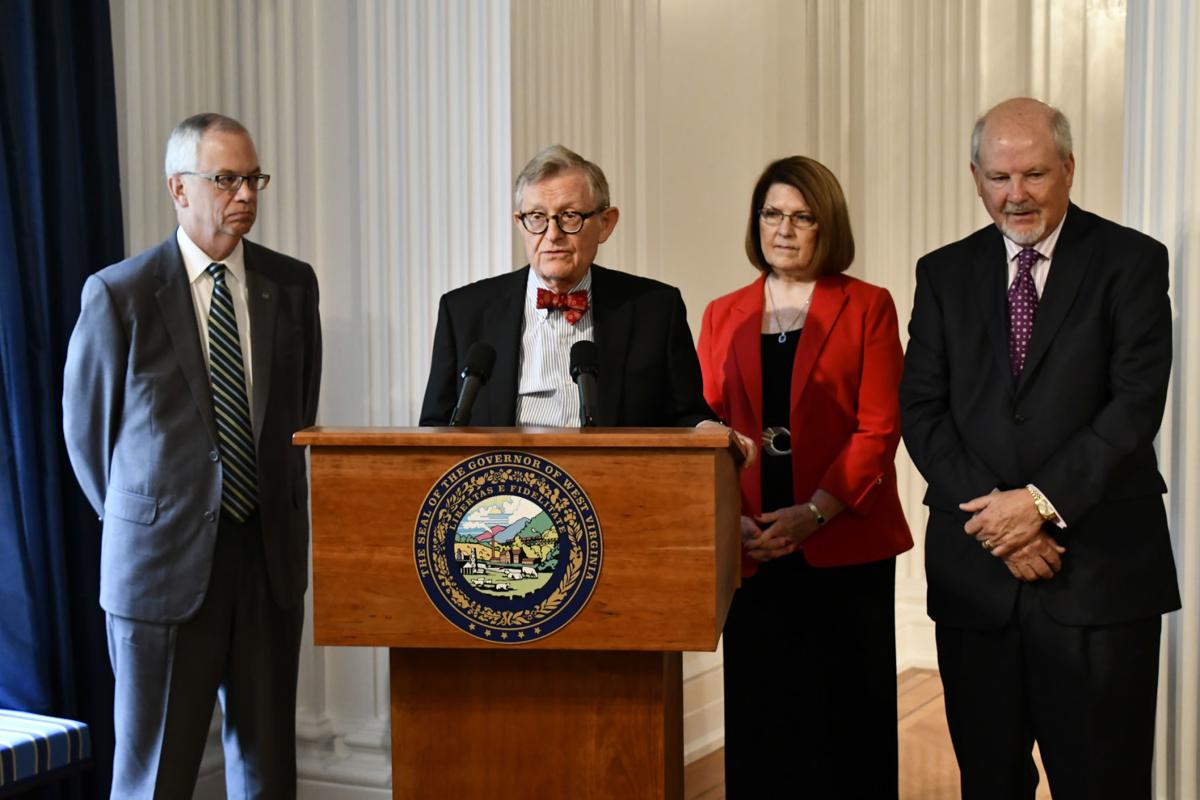 CHARLESTON — West Virginia is poised to dramatically change the way it funds and administers higher education — a process that has plunged the state Higher Education Policy Commission (HEPC) into controversy. HEPC is the state agency that administers and coordinates the state's four-year colleges and universities.
The continuing fuss started when the West Virginia Legislature directed HEPC to draft a new funding formula for the colleges and universities. HEPC came up with a formula that would hike state support for some schools while slashing funding for three schools — West Virginia University, WVU Institute of Technology and Glenville State. WVU would lose the most money — $9.2 million.
When Gov. Jim Justice signed an executive order creating a new Blue Ribbon Commission to study the "sustainability" of the four-year schools it became clear that HEPC's funding plan was dead. WVU President E. Gordon Gee was named co-chair and presiding officer of the new Blue Ribbon Commission.
Later, HEPC halted its search for a new chancellor to succeed the retiring Paul Hill and named WVU Tech President Carolyn Long as interim chancellor. While only one vote was cast against Long's appointment, her selection came under scrutiny because of her long-time association with WVU and the fact that no search or process for her selection was conducted in the open.
"While I have high regard for WVU Tech President Long," said Del. Paul Espinosa, R-Jefferson, "I share the concern expressed by our regional presidents that her appointment will raise questions about the impartiality of the HEPC as it finalizes its work on a higher education funding model as directed by the Legislature." Espinosa is chairman of the House Education Committee.
Gee hasn't just taken issue with the funding plan that HEPC put forth, but has blasted HEPC itself. At an Aug. 27 meeting of the Blue Ribbon Commission, he charged: "I do not believe HEPC works in the best interest of higher education."
Gee said HEPC has "become a super governing board … and diminished the role of the governing boards of the institutions."
HEPC Chairman Mike Farrell has said he rejects Gee's idea that HEPC isn't necessary. "We are here, and we exist because the Legislature created us in code," he said.
Farrell and Eric Lewis, representing Shepherd University on the commission, have voiced concern about its slow pace.
"We haven't done anything in 30 days except schedule when the next meetings are," Lewis said. "If we had set up committees right away, we could have had a committee working on funding. We could have had a committee working organization. We could have had a committee working on HPEC."
In announcing his Blue Ribbon Commission, Gov. Justice said he wanted it to study all of the state's four-year schools and figure out what's working and what's not. The commission, he said, will review things like redundant programs.
Justice said there are several schools in the state that are on "the brink of closure."
"I don't want to lose those institutions in those communities," he said, "because those institutions are vital to those communities, and those schools need to thrive in the most efficient way.
Justice appointed the commission in the wake of a report from a national higher education consultant that recommended consolidating some of the state's smaller regional schools.
The Blue Ribbon Commission asked the governor to extend the inquiry to include the state's two-year community and technical colleges but he declined to do so, saying he wanted the commission to complete its work regarding the four-year schools before including any consideration of the state's two-year institutions.
HEPC consists of ten members, seven of whom are appointed by the governor, and three ex-officio members: Secretary of Education and the Arts, State Superintendent of Schools, and Chairperson of the West Virginia Council for Community and Technical College Education.
The commission employs a staff of about 70 employees that is headed by the chancellor and includes the following divisions: Academic Affairs; Administrative Services; Chancellor's Office; Finance and Facilities; Financial Aid; Health Sciences; Human Resources; Legal Services; Policy and Planning; Science and Research; and Student Affairs.
— Bluefield State College, with a main campus in Bluefield.
— Concord University, with a main campus in Athens.
— Fairmont State University, with a main campus in Fairmont.
— Glenville State University, with a main campus in Glenville.
— Marshall University, with a main campus in Huntington.
— Potomac State College of West Virginia University, with a main campus in Keyser.
— Shepherd University, with a main campus in Shepherdstown.
— West Liberty University, with a main campus in West Liberty.
— West Virginia School of Osteopathic Medicine, with a main campus in Lewisburg.
— West Virginia State University, with a main campus in Institute.
— West Virginia University, with a main campus in Morgantown.
— WVU Institute of Technology, with a main campus in Beckley