iWork Apps Get Support for New Features on OS X El Capitan, iOS 9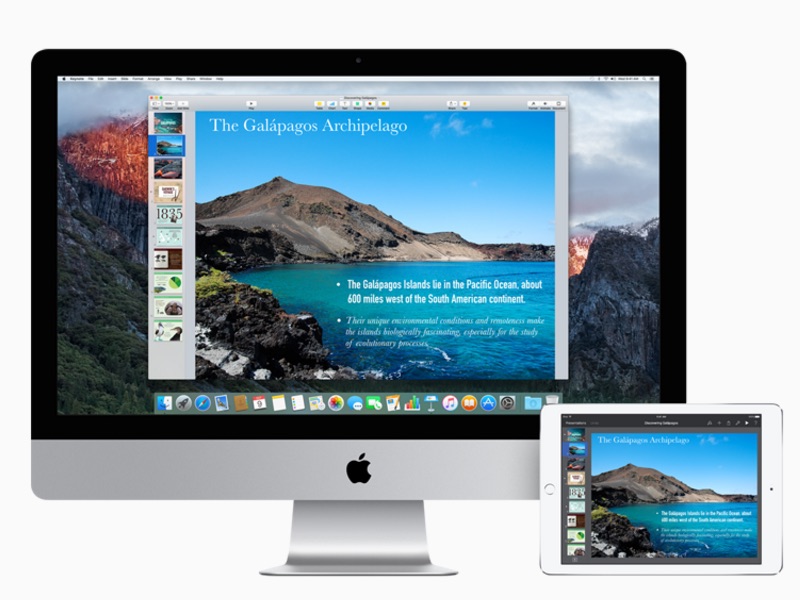 Apple has updated the iWork productivity suite on OS X and iOS to take advantage of several new features and capabilities it introduced with OS X El Capitan and iOS 9. The company is adding support for Force Touch, 3D Touch and adding a range of multitasking features to iWork apps.
iWork – the productivity suite that consists of Pages, Numbers, and Keynote applications – in addition to the new support for 3D Touch, a capability that allows users to get contextual options when hard pressing an app, also gets a range of Force Touch gestures in each of the aforementioned apps. You can now Force click on an image and quickly begin editing it. The Force gesture also comes with built-in haptic feedback. You will, of course, need the new Force Touch Magic Trackpad, or the Retina MacBook Pro or the new MacBook to take advantage of this addition.
Coming to the mobile side, you can now open some older documents in the apps. Keynote and Pagescan now open presentations and documents from the 2006 and 2008 versions of the software.Numbers, similarly, will allow you to open spreadsheets created with the 2008 version of the software. Moving on, you will now be able to preview shared Pages, Keynote, and Numbers documents on iOS, as well as Android devices.
As mentioned above, iWork apps for iOS now support multitasking features (Split View, Slide Over, Picture in Picture) as well as 3D Touch on the new iPhone models – the iPhone 6s and 6s Plus. The three apps have also gained new multi-touch gestures for selecting text, and a new Shortcut Bar which offers quick access to formatting tools. The apps also support new keyboard shortcuts when connected to a wireless keyboard.
In addition, all the apps come with a range of improvements. Check out the complete changelog.
Pages 2.6 for iOS
Multitask while editing using new Slide Over, Split View and Picture in Picture on iPad*

Quickly access formatting tools from the new Shortcut Bar on iPad

Easily select text using new Multi-Touch gestures on iPad

Use keyboard shortcuts when connected to a wireless keyboard

Support for new 3D Touch

Open Pages '08 and '06 documents

Preview shared documents on iOS and Android browsers

View and restore changes made to a document over time

New Apple-designed templates: Kids Certificate, Classic Certificate, School Newsletter

Easily access recently used fonts in the Fonts menu

Add reference lines to charts

Enhanced bidirectional support for Arabic and Hebrew

Improved Word compatibility for charts, text overflows and non-rectangular masks

Improved Word export

Improved ePub export
Many accessibility improvements:
VoiceOver can now read relevant text formatting details including font name and font size while editing

Add and review comments with VoiceOver

Track changes with VoiceOver

Add, remove and rearrange rows, columns and cells with VoiceOver

Get table header information with VoiceOver

Edit chart data and chart elements with VoiceOver

Change document settings with VoiceOver

Split View is available on iPad Pro, iPad Air 2 and iPad mini 4
Keynote 2.6 for iOS
Multitask while editing using new Slide Over, Split View and Picture in Picture on iPad*

Quickly access formatting tools from the new Shortcut Bar on iPad

Easily select text using new Multi-Touch gestures on iPad

Use keyboard shortcuts when connected to a wireless keyboard

Support for new 3D Touch

Open Keynote '08 and '06 presentations

Edit and present in portrait orientation

Preview shared documents on iOS and Android browsers

View and restore changes made to a document over time

New build animation: Line Draw

New Apple-designed themes: Modern Type, Exhibition, Drafting

Easily access recently used fonts in the Fonts menu

Add reference lines to charts

Full bidirectional support for Arabic and Hebrew

Improved PowerPoint compatibility for charts, text overflows, non-rectangular masks, animation mapping, and theme import and export

Improved PowerPoint export
Many accessibility improvements:
VoiceOver can now read relevant text formatting details including font name and font size while editing

Easily edit presenter notes with VoiceOver

VoiceOver can now read presenter notes during slideshows

Edit chart data and chart elements with VoiceOver

Add, remove and rearrange rows, columns and cells with VoiceOver

Get table header information with VoiceOver

Add and review comments with VoiceOver
Numbers 2.6 for iOS
Multitask while editing using new Slide Over, Split View and Picture in Picture on iPad*

Quickly access formatting tools from the new Shortcut Bar on iPad

Easily select text using new Multi-Touch gestures on iPad

Use keyboard shortcuts when connected to a wireless keyboard

Support for new 3D Touch

Open Numbers '08 spreadsheets

Preview shared documents on iOS and Android browsers

View and restore changes made to a document over time

Easily access recently used fonts in the Fonts menu

Add reference lines to charts

Improved Excel compatibility for charts, text overflows and non-rectangular masks

Improved Excel export
Many accessibility improvements:
Add, remove and rearrange rows, columns and cells with VoiceOver

Get table header information with VoiceOver

Edit chart data and chart elements with VoiceOver

Interact with checkbox, sliders, stepper, star ratings and pop-up menu cells with VoiceOver

VoiceOver can now read relevant text formatting details including font name and font size while editing

Add and review comments with VoiceOver

Access print preview with VoiceOver
Pages 5.6 for OS X
Multitask while editing using new Split View in El Capitan

Open Pages '08 and '06 documents

Shared Pages documents can now be previewed on iOS and Android browsers

Force click images and get haptic feedback as you edit using Force Touch trackpad

New Apple-designed templates: ePub, Kids Certificate, Classic Certificate, School Newsletter

Easily access recently used fonts in the Fonts menu

Enhanced support for OpenType font features like small caps, contextual fractions, alternative glyphs and more

View Collections, Moments, Favorites and Shared Albums from Photos in the Media Browser

Add reference lines to charts

Create table, chart and shape styles from an image

Add and review comments with VoiceOver

Track changes with VoiceOver

Edit chart data and chart elements with VoiceOver

Additional AppleScript options for PDF export

Additional AppleScript options for ePub export

Improved Word compatibility for charts, text overflows and non-rectangular masks

Improved Word export

Improved ePub export

Improved EndNote support
Keynote 6.6 for OS X
Multitask while editing using new Split View in El Capitan

Open Keynote '08 and '06 presentations

Shared Keynote presentations can now be previewed on iOS and Android browsers

Force click images and get haptic feedback as you edit using Force Touch trackpad

New build animation: Line Draw

New Apple-designed themes: Modern Type, Exhibition, Drafting

Easily access recently used fonts in the Fonts menu

Enhanced support for OpenType font features like small caps, contextual fractions, alternative glyphs and more

View Collections, Moments, Favorites and Shared Albums from Photos in the Media Browser

Add reference lines to charts

Create table, chart and shape styles from an image

Easily edit presenter notes with VoiceOver

VoiceOver can now read presenter notes during slideshows

Edit chart data and chart elements with VoiceOver

Add and review comments with VoiceOver

Full bidirectional support for Arabic and Hebrew

Additional AppleScript options for PDF export

Additional AppleScript options for PowerPoint export

Improved PowerPoint compatibility for charts, text overflows, non-rectangular masks, animation mapping, and theme import and export

Improved PowerPoint export
Numbers 3.6 for OS X
Multitask while editing using new Split View in El Capitan

Open Numbers '08 spreadsheets

Shared Numbers spreadsheets can now be previewed on iOS and Android browsers

Force click images and get haptic feedback as you edit using Force Touch trackpad

Easily access recently used fonts in the Fonts menu

Enhanced support for OpenType font features like small caps, contextual fractions, alternative glyphs and more

View Collections, Moments, Favorites and Shared Albums from Photos in the Media Browser

Add reference lines to charts

Create table, chart and shape styles from an image

Edit chart data and chart elements with VoiceOver

Add and review comments with VoiceOver

Additional AppleScript options for PDF export

Additional AppleScript options for Excel export

Improved Excel compatibility for charts, text overflows and non-rectangular masks

Improved Excel export